Placing Lights
Let's add a light inside your room:
The Modes panel in the upper left allows access to different UE4 tools like texture painting, landscape creation, foliage placing, and geometry editing. The default Place mode, the mode we currently care about, allows you to place common actors - like lights - into your level.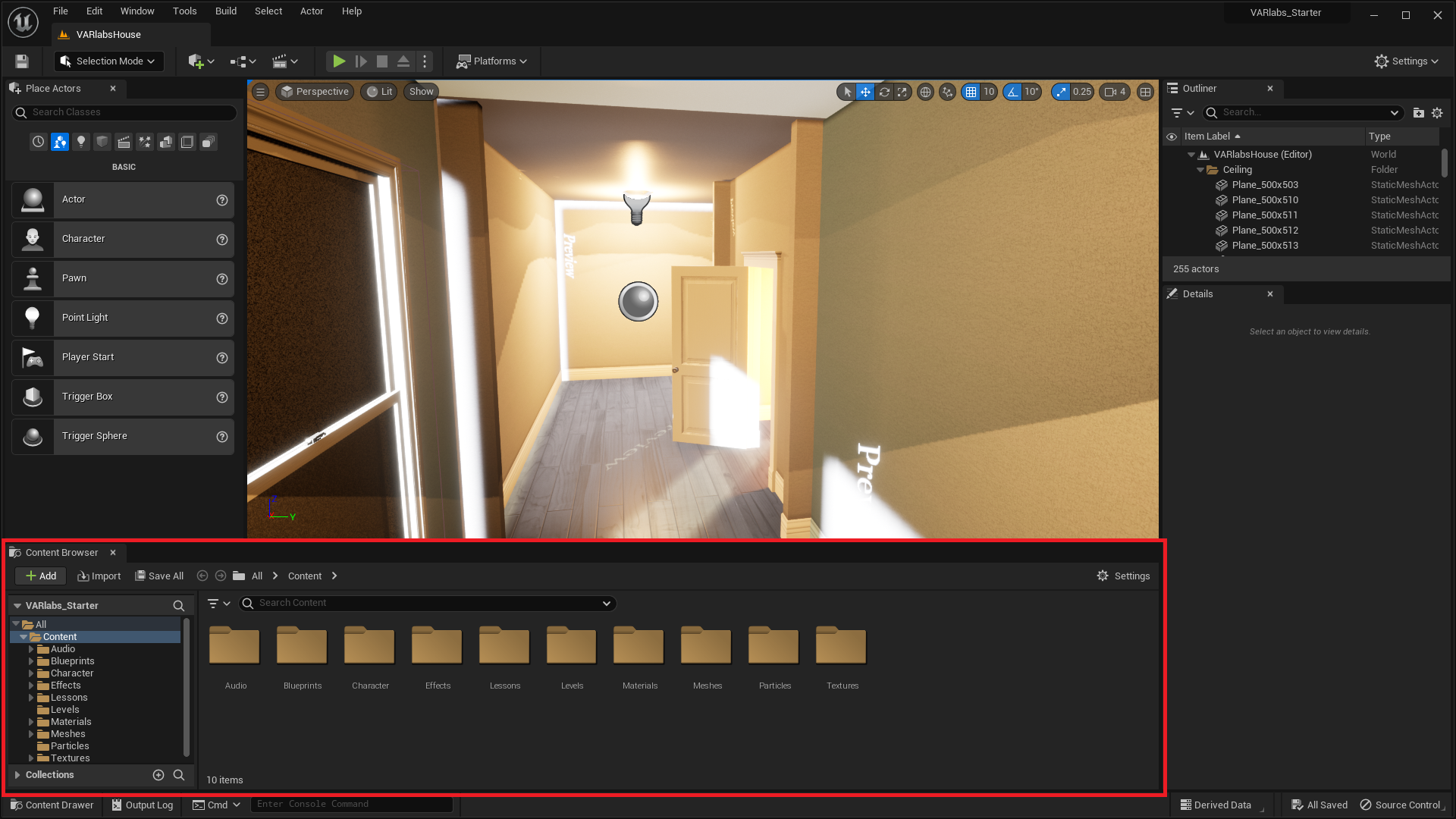 To add a light:
In Place mode, open the Lights submenu
Click and drag a Point Light into the center of your room
Unreal Engine 4 features four different types of light: Point, Directional, Spot, and Sky.
Point Lights work much like a real world light bulb, emitting light equally in all directions from a single point in space.
Directional Lights simulate light emitted from a source that is infinitely far away. All shadows cast by this light will be parallel, making this the ideal choice for simulating sunlight.
Spot Lights emit light from a single point in a cone shape.
Sky Lights capture ambient light information from the far distances of the map.
Challenge:

Click on your new Point Light and edit some of its properties in the Details panel. The most fun properties to edit are:

Light Color
Intensity
Attenuation Radius
Lighting for VR is tricky because it's an expensive process, and VR requires optimal performance. For that reason, we should try to use static lighting wherever possible.
Static lighting is less expensive than Dynamic lighting because all the calculations are "baked" into the textures before the game even runs. In this way, our VR experience will not have to calculate any lighting for lights that are set to static. The draw back is that you can't change a static light's color or intensity mid-game. Static lights also don't cast dynamic shadows.
To make your light static:
Set Mobility to Static in the Details panel while the light is selected.
Once your light is in the correct place:
Click Build in the Toolbar above the Viewport
The engine will then calculate all the lighting and bake it into the scene.
Your lighting is now baked into the world! To demonstrate what this does, go ahead and move your light, or delete it all together. As you can see, the baked lighting still remains. The moment you press Build again, all old lighting data will be lost and the new placement of your light will be baked into the scene.
To summarize:
Use Static lighting if you only need the light to illuminate the scene. This is best in terms of performance.
Use Stationary lighting when you want the light to change color, change intensity, or cast dynamic shadows.
Use Movable lighting when you want the light to be able to move and also change color, intensity, or cast dynamic shadows. This is the most expensive type of lighting in terms of performance.
If you ever forget, hover any of the light's Mobility options in the details panel for a helpful tooltip.
---