Conveyor
Let's take a quick diversion from player super powers.
You might have noticed that our conveyors don't actually move objects. We can write a new blueprint script inside of BP_TutorialConveyor to get physically enabled actors moving.
Open BP_TutorialConveyor's event graph.
We need some way to determine which objects should be moved by BP_TutorialConveyor. A collision box will tell us when objects are within a reasonable distance of the conveyor belt.
Add a new Box Collision component
Open the viewport
Set Scale to 1.6, 3.0, 0.25
Set Location to 0.0, 0.0, 41.0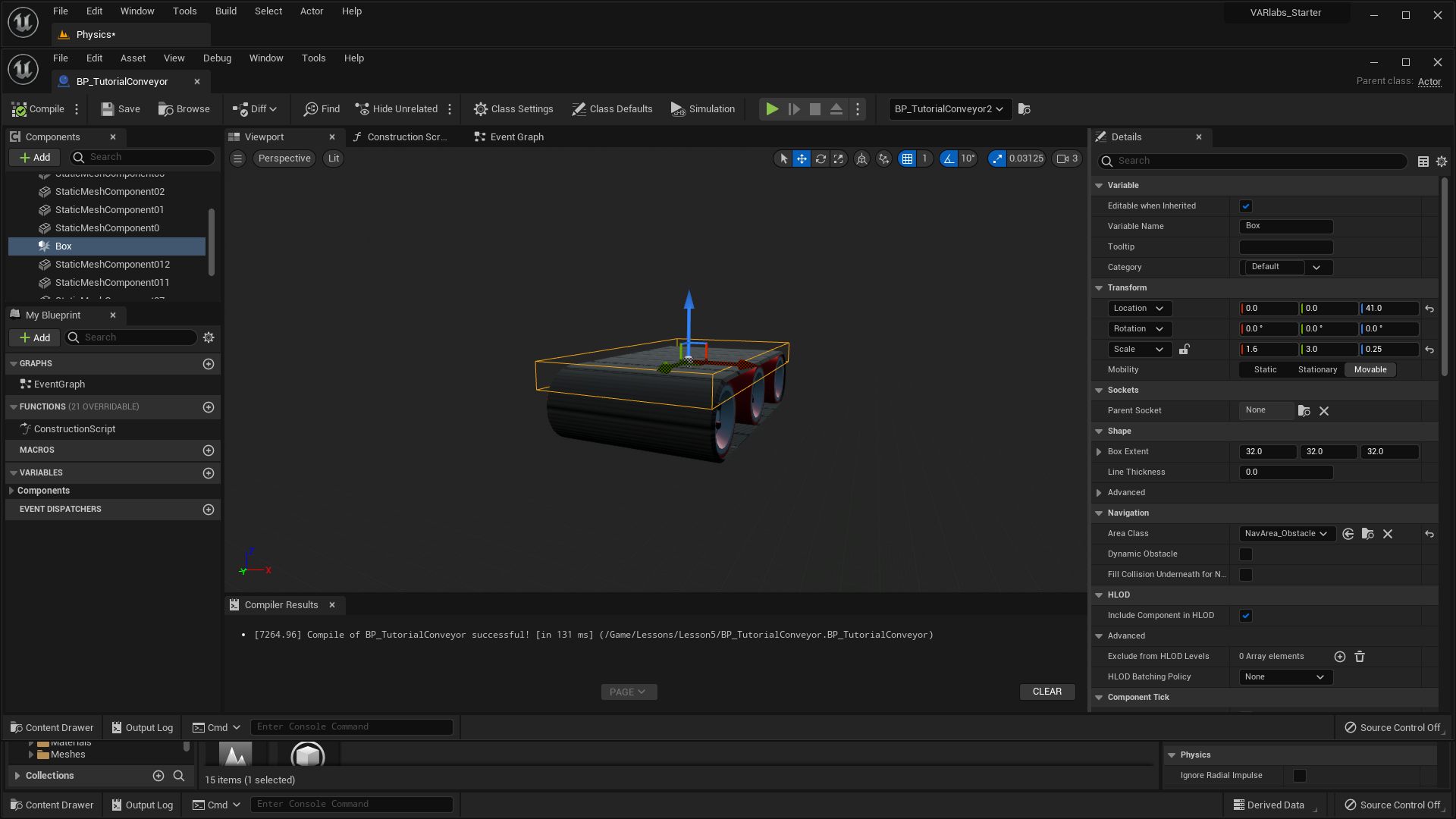 Let's add OnComponentBeginOverlap and OnComponentEndOverlap events for our collision box.
Open the event graph.
Right-click Box in Components and select Add Event > Add OnComponentBeginOverlap
Right-click Box in Components and select Add Event > Add OnComponentEndOverlap
We need to store all components that overlap our box in a new array variable.
Add a new variable and name it "Components"
In the details panel, set Variable Type to PrimitiveComponent > Reference
Select the array button
You may be wondering why we're storing components instead of actors. This is because we apply forces to components and not actors.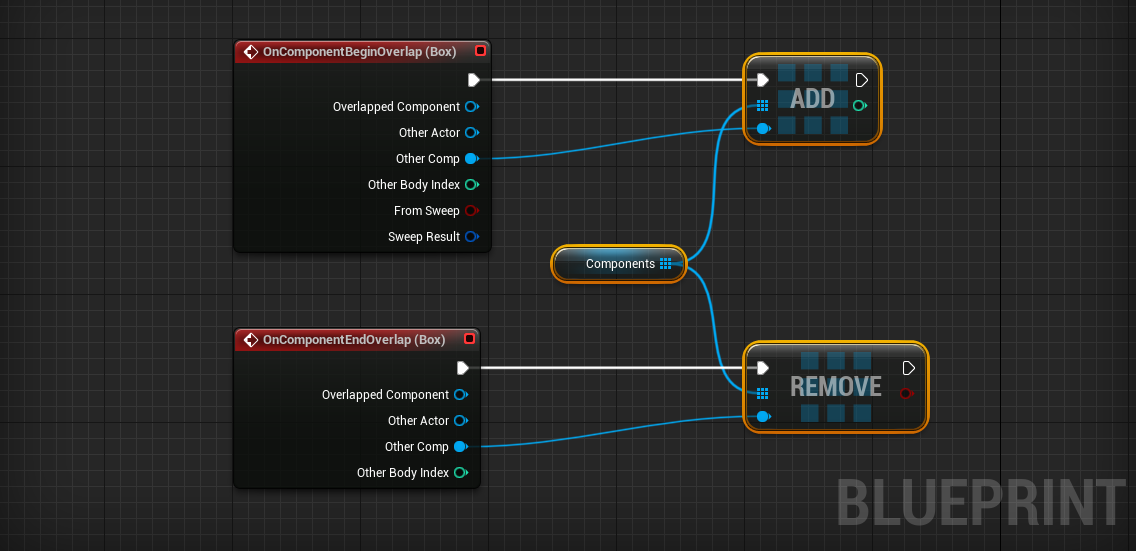 Great! This is everything we need to add and remove components from the array.
Now we need to add a force to each component on Tick.
Place Tick in the graph
Place a new reference to Components in the graph
Pull a wire from Components and add a ForEachLoop node.
TickForEachLoop
We need to cast Array Element to a static mech component.
Pull a wire from Array Element and add a Cast To StaticMeshComponent node.
ForEachLoopCast To StaticMeshComponent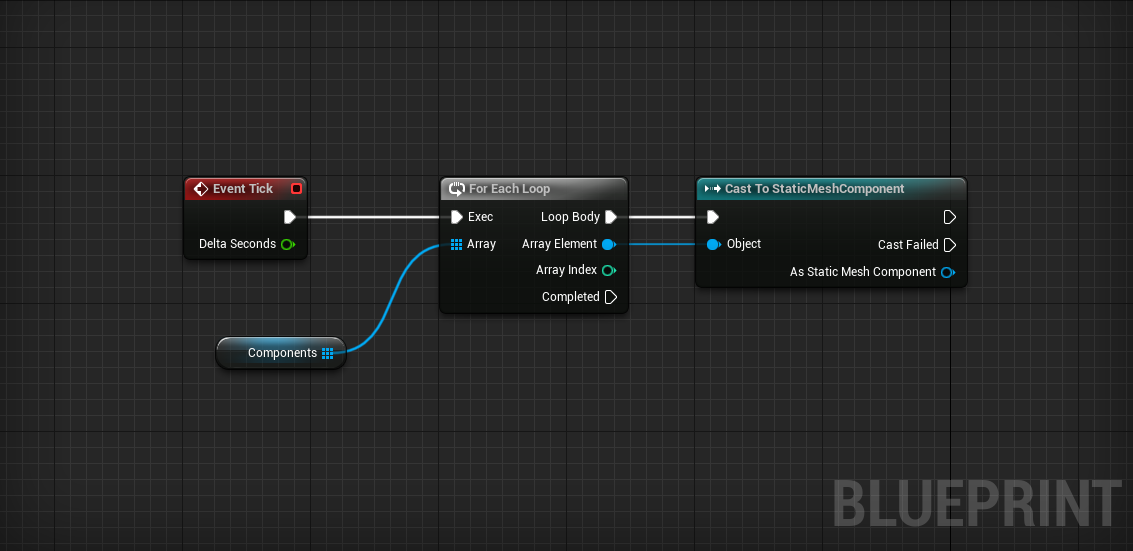 When the cast is successful, we should add a force to the component in the direction of conveyor belt movement. We can specify this direction with an Arrow component.
Add a new Arrow component
Open the viewport
Set Rotation to 0.0, 0.0, -90.0
Set Location to 0.0, 0.0, 70.0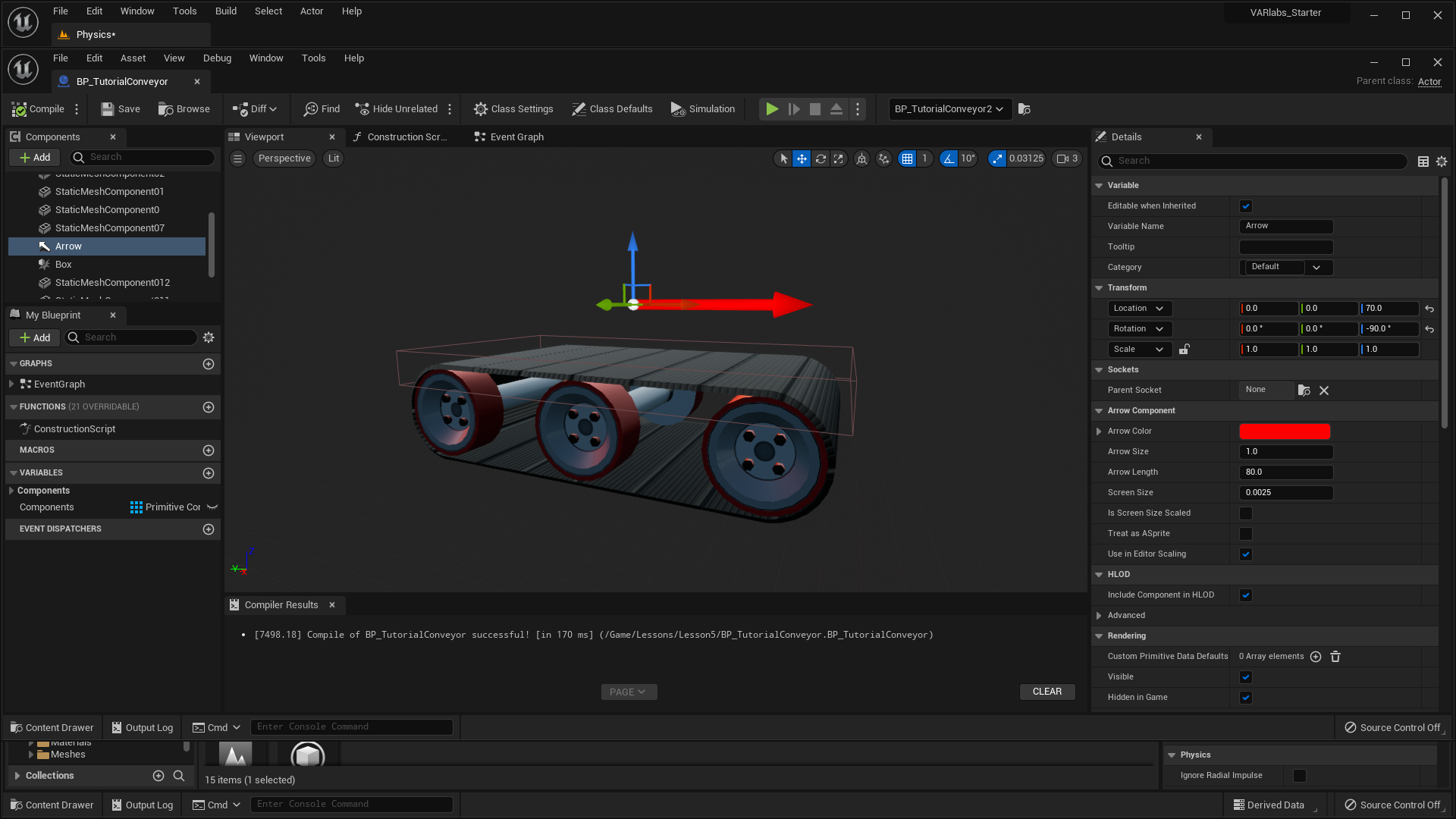 The Arrow component is a useful tool for development. It will not show up in game unless otherwise specified.
We're nearly done! Let's add our last function now.
Pull a wire from Cast To StaticMeshComponent > As Static Mesh Component and add an Add Force node.
Set Accel Change to True by checking the box
Targeted components respond according to their mass when Accel Change is not set to true. Experiment with this variable later to see what effct this has on different components.
Challenge:

Set Force by multiplying Arrow's forward vector with a scalar power value.
When you play the level, physically enabled objects should respond to BP_TutorialConveyor. Choo-choo! All aboard the physics train!
---
---